The Nestlé way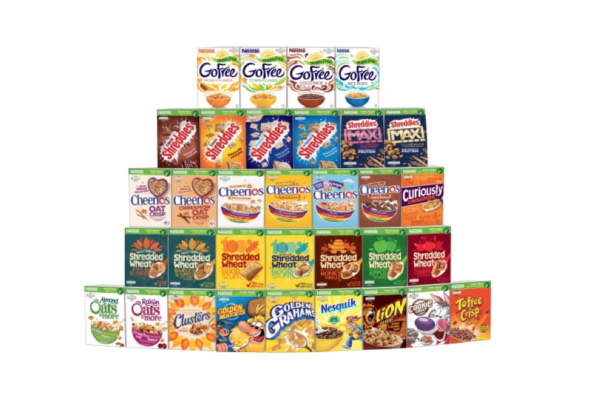 Furthering its commitment to sugar reduction, Nestlé Breakfast Cereals this week announced plans to cut an additional 10 per cent of sugar across its cereal range by the end of 2018.
Since 2010, the brand – responsible for the likes of Cheerios, Golden Grahams, Nesquik, Shreddies and Shredded Wheat – has already reduced its average sugar content by 15 per cent across the portfolio. And sugar reduction isn't the only nutritional improvement the cereals, made by Cereal Partners Worldwide (UK), have seen over the years. Reformulation has also seen salt levels decrease and levels of wholegrain increase; compared with 2003 levels, Nestlé Breakfast Cereals sold in the UK in 2016 contained 383 million fewer teaspoons of sugar, 42 million fewer teaspoons of salt and an additional 3,600 tonnes of wholegrain.
This week's announcement – which follows plans announced earlier this year by Nestlé UK and Ireland to strip out 10 per cent of sugar from across its confectionery range by 2018 – will see a further 225 million fewer teaspoons of sugar in the nation's diet.
Public Health England (PHE), which has previously praised Nestlé for sending "a clear message that reducing sugar in food is possible, even in products that are typically harder to reformulate", has also welcomed this latest announcement.
Alison Tedstone, PHE chief nutritionist, says, "This is a major step from Cereal Partners and a good sign of its commitment to reduce sugar in Nestlé breakfast cereals. While there is a long way to go to drive sugar consumption down to recommended levels, we believe this announcement will encourage other companies to make significant reductions and produce healthier products to meet the government's 20 per cent target by 2020."
So far this year, we've already seen Nestlé's white chocolate brand Milkybar increase the amount of milk in the recipe to allow for a reduction in sugar; Nestlé's Rowntree's unveil new 30 per cent less sugar versions of Fruit Pastilles and Randoms; and its flagship confectionery brand KitKat add extra milk and cocoa to reduce sugar content.
We were expecting to see a multitude of reformulation announcements in 2017 as manufacturers committed to sugar reduction, and they have not disappointed. Household name Nestlé is making its intention to offer consumers healthier and tastier products well known, and many other manufacturers are working equally as hard to satisfy the government's aim for a 20 per cent reduction in sugar by 2020.
It's good to see PHE giving Nestlé the credit it deserves and as Tedstone says, hopefully other companies will be encouraged to embark on their own reformulation journeys.