July/August 2012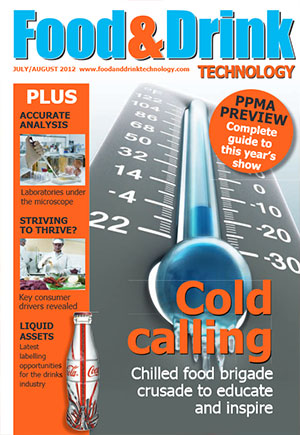 Ratty's reflections
Industry stalwart Richard Ratcliffe gets misty-eyed at the prospect of a prawn cocktail and Party Seven…
'20-mile trek is an Olympic challenge'
Joy Thomas of Cornelius Group explores the range of sports nutrition products on offer to aid her charity efforts.
A thirst for new ideas
Mike Fairley looks at the latest technologies for beverages
A paradigm of innovation
Steve Osborn looks at the sweet success of confectioners through the years.
Taken on trust
Analytical results from the basis of major operational and commercial decisions, But how can you be sure of their accuracy?
Ahead of the pack
This year's PPMA will focus automation, innovation, efficiency and technology.
The drive to thrive
In tough economic times, NPD is vital. So, too, is an in-depth knowledge of key drivers for consumers.
Pesticide poser for spinach
Limian Zhao and Joan Stevens of Agilent Technologies talk toluene…
Science matters
The IFST looks at the hazards of chemical contamination.
Access this issue
Back issues of Food and Drink Technology are restricted to paid subscribers. Please login or subscribe to see this exclusive content!