Grant's reveals global brand refresh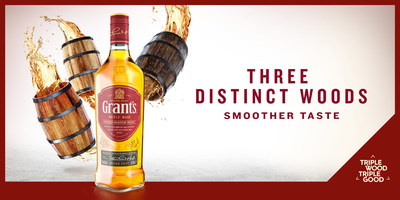 Grant's Triple Wood OOH Landscape (PRNewsfoto/William Grant & Sons)
Grant's whisky has announced a global brand refresh – the biggest for 20 years.
The refresh includes new packaging and a renaming of the signature blend.
Grant's says the new name Triple Wood is 'a way of communicating the superiority of the liquid through its whisky making process for a smooth, rich and mellow taste'.
"We have big ambitions to be the most distinctive player in Scotch whisky and are proud to celebrate our Triple Wood maturation, the key to our exceptional taste, with a new global brand refresh," says Philip Gladman, Grant's chief marketing officer.
The use of wood plays an important role in the creation of Grant's. Using the same formula for the last 130 years, 60 per cent of its flavour is drawn from 'cask influence'. Rather than being aged in just one type of cask, Grant's Triple Wood liquid is rested in three types of cask.
Related content