Hydrosol displays plant-based solutions at SupplySide West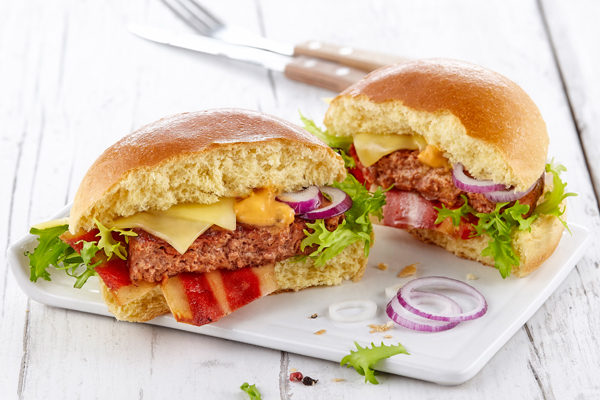 Following demand for improved flavour and texture for plant-based products, Hydrosol will be presenting its latest generation of functional systems and all-in compounds for vegan alternatives at this year's SupplySide West in Las Vegas, 18-19 October.
At Booth #4767, visitors can get many new inspirations for making plant-based burger patties, cold cuts and sausages, as well as vegan alternatives to pizza cheese, cream cheese and sour cream.
From burgers to bacon, a wide range of meat alternatives
In the meat category, Hydrosol is focusing on popular products like plant-based burger patties. These can be based on wheat or soy protein and made using Hyrosol's stabilising and texturing systems, or in allergen-free versions using HydroTOP Vegan Patty PP, which is based on fava bean and pea protein and also contains a sunflower-based texturate. It enables users to make many vegan products which are freeze/thaw-stable and can be worked into ready meals with no problems.
Other products for plant-based meat alternatives are all-in compounds for making vegan cold cuts like salami, bacon, and plant-based sausages for eating hot or cold. Nuggets, schnitzel, fish sticks and other breaded products are also possible.
Vegan dairy alternatives for American foods
Hydrosol has developed plant-based ingredients for the American classics, including pepperoni and a pizza topping that can substitute for cheese. Like traditional pizza cheese, this vegan product has very good melt properties, and is also stringy when hot. In the cream cheese category Hydrosol offers a texturing system that can be used to make vegan bagel spreads, plain or with other additional flavours such as herbs.
Hydrosol's vegan sour cream alternative is an answer to the growing consumer demand for clean label products. This plant-based sour cream is free of e-numbers, and the taste is indistinguishable from the animal product. It is based on an almond drink and coconut fat. Together with a Hydrosol stabilising and texturing system, it gives a topping for burgers and burritos or a dip for potato wedges and chips.
Related content