Essentra's Re:Close Tape provides promotional boost for Kettle Chips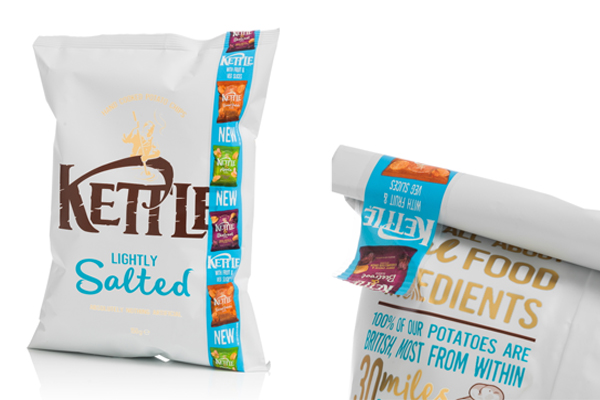 Re:Close from Essentra Tapes is enabling Kettle Foods to promote its new Kettle & More range to consumers whilst also providing user-friendly pack re-closability to maintain freshness and support portion control.
The 8-colour printed Re:Close Tape can be seen on Lightly Salted Kettle Chips packs throughout retail outlets in the UK to boost awareness of the 3 new products within the Kettle & More range, which combines fruit and vegetable slices with Kettle's potato chips.
"We wanted to promote our exciting new Kettle & More range and Re:Close Tape seemed the perfect opportunity for us to do this," said Daisy Scott, assistant brand manager at Kettle Foods.
"The Essentra Re:Close Tape gave us a great opportunity to interrupt the shopper journey with our NPD news. The tape was an effective way for us to reach existing Kettle Chips consumers and ask them to reassess their normal purchase. We were extremely pleased with the impact of the tape on shelf and the ease of application."
Easily applied to the existing vertical form fill and seal packaging lines with Essentra's applicators, the 30mm wide resealable tape also incorporates an easy-to-use finger lift area that runs along both sides of its length, making it simple to lift away from the pack. Once opened, the pack can be resealed using the Re:Close Tape, securing the contents and helping to ensure the chips freshness.
Re:Close Tape also encourages a shelf-stand presence and can provide customer engagement, influencing brand advocacy and improving recognition. Social media icons, prompts, seasonal messages and loyalty codes can be added to provide an additional opportunity for engaging with customers.
Ian Beresford, head of marketing and development at Essentra Tapes, said: "The ability to add on-pack promotions simply and cost-effectively, without the need to change the existing packaging artwork, is a real advantage to Re:Close Tape.
"Our high-definition print delivers spectacular results and we are delighted to see our Re:Close Tape so clearly promoting the latest Kettle & More range, whilst also providing the additional convenience to consumers of being able to reclose the original pack."
The Kettle & More range comes in three flavours:
Kettle Chips & Beetroot slices with a Goat Cheese and Caramelised Onion seasoning
Kettle Chips & Sweet Potato with a Smoky Chipotle and Crème Frâiche seasoning
Kettle Chips & Apple slices with a Norfolk Pork Sausage seasoning
Related content