Goplasticpallets introduces new folding pallet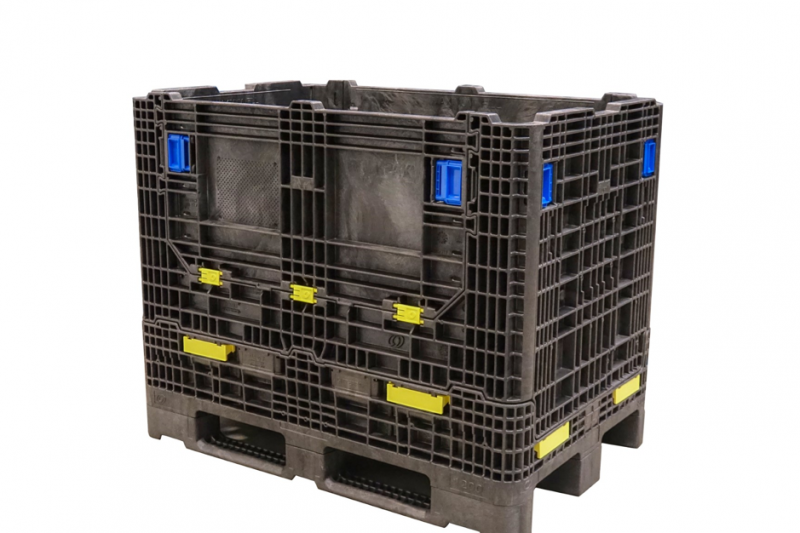 Goplasticpallets.com has introduced its new GoFLC 960 – a new, multi-purpose folding pallet container.
Jim Hardisty, managing director of Goplasticpallets.com, said: "We believe this is the most robust product of its kind available on the market."
The folding container, which is 1200mm (L) x 800mm (W) x 960mm (H) size, has a high load capacity of 900 kilos, so it can deliver a long-lasting performance even in the most demanding environments. When static the GoFLC 960 can support 5,400kg and up to 2,700kg in transit.
Manufactured from black HDPE, this folding pallet container comes on a robust, solid pallet base and side walls with two doors for easy loading on either side. Blue latches are easy to identify, making collapsing the box a smooth, straightforward process.
When assembled, the GoFLC 960 stands at a height of 960mm and offers a maximum storage capacity of 625 litres. It can also fold down to a compact 354mm, allowing a standard sized truck to transport up to 198 of these folding pallet containers at any one time.
Also now available from Goplasticpallets.com is a black matching lid, which weighs 4.5kg and can be screen printed with a company's name or logo.
Like the majority of Goplasticpallets.com's products, the GoFLC 960 and lid are fully recyclable, so at the end of their long working life they can be collected and recycled to produce other high-quality plastic pallets and boxes.
To see how the GoFLC 960 works, watch a video here.
Related content