Mondi and Pacoon offer a roadmap for making packaging more sustainable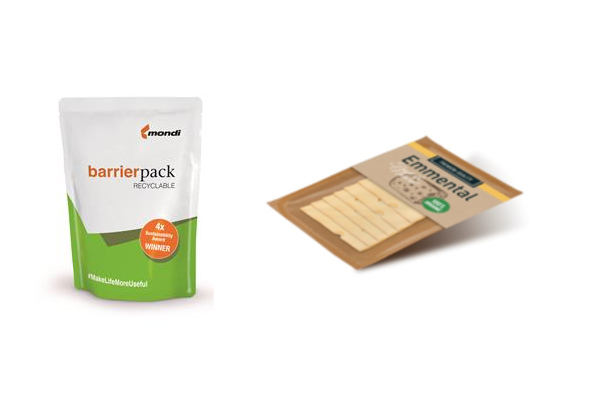 Mondi's packaging
Following this year's ProSweets, packaging manufacturer, Mondi, found that customers and consumers 'lack understanding' about the challenges faced when making packaging more sustainable. To help, Mondi, together with packaging strategy and design consultancy Pacoon, have joined forces to better educate both businesses and consumers on more sustainable packaging and recycling behaviour, including an interactive map demonstrating differing waste approaches across the globe.
A particularly common myth is that biodegradable is always better when in fact it is not, according to Mondi. Consumers also have a lack of understanding about the difference between plastics based on fossil or renewable resources. And the thinking that plastic-free packaging is better still dominates, even though life cycle analyses have showed that plastic packaging can sometimes be the most sustainable choice.
Researchers are increasingly developing paper- and fibre-based packaging that offer barriers to replace plastic foil, which can render mixed-material packages unrecyclable. Water-based coatings on paper can be used to make sealable or even thermoformable paper grades for direct food contact – for example Mondi's perFORMing solution reduces plastic by up to 70% by using coated Advantage Formable paper instead of plastic in trays for attractive cheese and cold meat packaging.
While advancements in recycling technology have already led to improved waste collection, better plastic detection, improved sorting of smaller parts, more efficient chemical recycling of multilayer structures, and increased PET recycling, the need for a common approach remains.
Mondi and Pacoon say global communication and collaboration at all stages of product design, development, use, collection, recycling and reuse will be central to future success.
Pacoon has developed an interactive map showing differing waste approaches across the globe to deliver fact-based education on recycling. Global data analyses by country shows real life waste treatment practices, including deposit laws, combustion/ incineration, recycling, landfilling and additional information on local country laws which confirms that a one size fits all approach to sustainable recycling and waste practices will not work.
"Countries with little recycling infrastructure or landfill would be better served by compostable packaging. Organic brands may be able to rely on renewable raw materials. Countries with a high recycling infrastructure need to focus on recyclability and/or recycled materials. Climatic conditions also influence the use of materials." said Peter Désilets, Pacoon's general manager.
Pacoon displayed several concepts at the ProSweets 2019 fair focusing on features ranging from recyclability and renewably sourced materials, to bioplastics, coated paper, and mono-material package constructions, including Mondi's mono-material BarrierPack Recyclable – a stand-up pouch which is 100% recyclable.
Thomas Kahl, project manager EcoSolutions for Mondi Consumer Packaging said: "BarrierPack Recyclable is constructed from two layers of polyethylene (PE). The material is stiffer, stronger and lighter than a conventional PET/PE laminate of the same thickness, and it can be used for pre-made packaging as stand-up pouches, or formed directly on form/fill/seal (FFS) machines. It also offers the added benefit of a high processing/fill rate".
Mondi's view is that packaging should always be fit-for-purpose – paper where possible, plastic when useful – sustainable by design.
Related content