Maynards Bassetts debuts mocktail-flavoured Wine Gums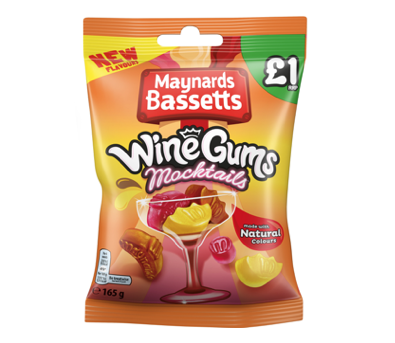 Maynards Bassetts has unveiled its newest flavour extension targeted at young adults.
Wine Gums Mocktails is the fifth innovation since Maynards and Bassetts joined forces in 2016 and will see non-alcoholic Strawberry Daiquiri, Pina Colada and Cuba Libre flavours added to the range of iconic Wine Gum shaped jelly sweets.
Marta Sanso, senior brand manager for Joyful Candy at Mondelēz International, says, "Recent additions to the UK's number one candy bag range including Tangy, Tropical and Merry Mix candy bags have brought more shoppers into the market. Maynards Bassetts Merry Mix brought in more than 300,000 additional shoppers alone.
"This NPD is a true representation of our brand; it is bold and extremely relevant to British consumers. It received an outstanding rating in consumer concept testing so we believe it will drive incremental sales within the younger adults segment of the market, providing a further growth opportunity."
Wine Gums Mocktails are available in 165g bags at a RRP of £1.32.