Kiddylicious launches houmous snacking pots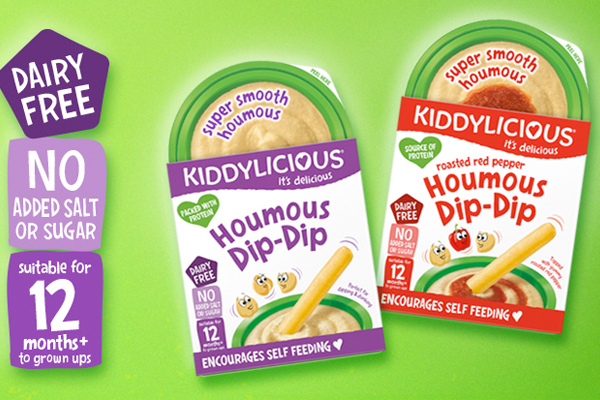 UK baby food brand, Kiddylicious, has launched its first dipper products into the baby category.
The Kiddylicious Houmous Dip-Dip and Kiddylicious Roasted Red Pepper Houmous Dip-Dip – are aimed at driving further growth within the Baby Snacking Category, and the ambient snacks will be rolled out across Asda, Boots, Morrisons, Ocado and Sainsbury's stores from August through to October.
The duo has been developed to create a fun, convenient, child-friendly, nutrient-dense snack that aims to stimulate toddlers' interest in food, encouraging self-feeding and helping to reduce picky eating. Targeted at toddlers and kids aged 12+ months, each pack contains a pot of super-smooth houmous with accompanying breadsticks, with an RRP of £1.30/55.5g).
Kiddylicious Houmous Dip-Dip's contain 100 calories per portion, in line with Public Health England guidelines. As well as being dairy and nut free, they are also a source of protein and fibre, are low in saturated fat and contain no added sugar, salt or artificial flavours, colours or preservatives.
Twan Thorn, managing director at Kiddylicious said: "Toddler tummies are too small to obtain all their energy needs from just three meals a day, which is why it's important to supplement meal times with nutritious snacks. Kiddylicious Houmous Dip-Dip's have been created to fulfil this snacking need and unlike many commercial houmous products contain no added salt or sugar. We believe the launch will further elevate growth within the snacking category and solidify Kiddylicious as the go-to snacking brand for babies and toddlers."
Related content