Botanic Lab teams up with Deliveroo on CBD drinks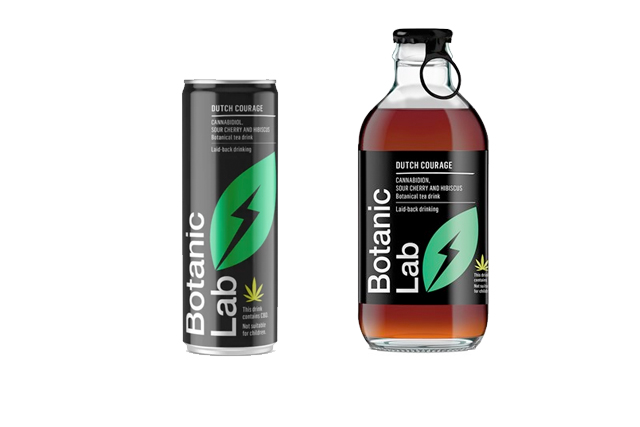 A year after medical cannabis was legalised in the UK, Botanic Lab, the brand behind CBD drink 'Dutch Courage', has rolled out its CBD on demand retail service with retailers Deliveroo and Holland & Barrett.
CBD, a non-psychoactive compound found in marijuana, reportedly treats a range of conditions including chronic pain, anxiety and depression. According to the Cannabis Trades Association UK, the number of cannabidiol consumers shot from 125,000 in 2017 to 250,000 in 2018, with the 2018 CBD UK market estimated to be worth $80m.
British functional drinks brand, Botanic Lab launched a cannabidiol botanical tea drink, Dutch Courage, in August 2018. Each Botanic Lab Dutch Courage drink contains 5mg of hemp CBD extract, an amount "ideal for general health maintenance".
"Since the launch of our Dutch Courage drink last year we have seen significant shifts in both consumer understanding of CBD and also consumer demand for products", said CEO and founder of Botanic Lab, Rebekah Hall. "Whilst the retail environment remains challenging and regulatory guidance is needed to open the market, the consumer demand has gathered intense pace. We will continue to work to open these markets and seek ever more innovative ways to reach our consumers".
Regulatory challenges have decelerated growth in 2019, but consumer demand is higher than ever, with the UK set to be the most important European market for CBD. In 2018 Brightfield placed the size of the European CBD market at $320m and estimates it to be $415m in 2019. According to Bank of America ML, Europe already has the largest market potential for CBD (ahead of US and Canada) estimated at $4.4bn and by 2032, the European market potential is estimated to grow to be $26.3bn.
This rise in demand is best reflected on the UK high street, where products containing CBD – from sweets to creams – are now easily accessible and available to buy from well-known retailers such as Selfridges, Harvey Nichols and Holland & Barrett. Deliveroo understood the consumer demand for CBD, so worked with Botanic Lab to launch the first 'CBD On Demand' service, delivering CBD drinks to consumers at home.
Dutch Courage is part of the new Social Lubricants range of sophisticated soft drinks, each of which contains a unique functional botanical ingredient formulated with a combination of refreshing fruits, herbs and spices. The range also includes Latin Lover (Yerba Maté) and Yin Yang Yuzu (Green Tea). All are free from refined sugars, artificial colours, flavours and sweeteners.
The new Botanic Lab Dutch Courage Cannabidiol botanical tea drink is available in 250ml aluminium can (£1.60 RRP) and glass bottle format (£1.99 RRP). It is available at Holland & Barrett, Coco Di Mama, As Nature Intended and at www.botanic-lab.co.uk.
Related content