Gast Group: Drinktec 2017 Preview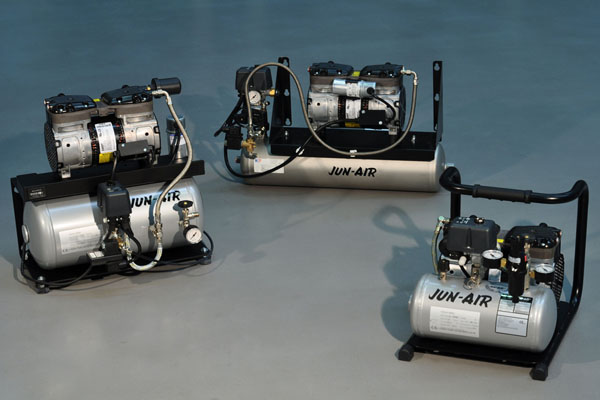 Gast Group – the leading designer and manufacturer of precision air products and member of IDEX Corporation's Health & Science Technologies division – will be using its stand at drinktec 2017 to promote its products and services for beverage dispense applications.
Traditionally CO2 has been used to operate beer and soft drinks syrup pumps but, due to environmental and health & safety concerns, many venues are introducing compressors for larger installations, which has led to a significant increase in demand for compressed air to replace CO2 in beverage dispensing systems.
Besides reducing the number of gas cylinders that need to be stored and handled, an on-site compressed air generator can be used to dispense draught beer (from traditional kegs to 500-1000 litre pressurised beer tanks); pump beer, wine and syrup; and operate bag-in-box and blend-in-cup installations for the dispensing of other drinks.
Gast Group will be using drinktec 2017 to showcase its JUN-AIR 86/87R Series Systems, which are designed to suit virtually any beverage or liquid food application and be even quieter and more durable in operation. They provide best-in-class reliability, quality and performance; and their compact footprint makes them easy to install and ready to use at point-of-installation, making them easily integrated into most applications.
Also on the stand – and ideal for beverage and liquid food applications – are Gast Group's new LubeFree options, which utilise a proprietary vane material to provide versatility and allow users the options to oil or not oil the motor. These new options have not only extended GAST's range of air motors, but existing 2AM, 4AM and 6AM Series motors can also be upgraded and retrofitted using a backwards-compatible LubeFree vane kit.
Gast Group in Action
Heineken's Orion and Cellar-beer dispense systems consist of a series of 250, 500 or 1000 litre stainless steel tanks, installed in either a cold room or water-cooled insulated beer-tank and filled from beer trucks or road tankers.
Unlike traditional kegs that rely on CO2 for dispense, the Heineken systems use compressed air from JUN-AIR compressors or GAST rocking pistons to pressurise the tanks and squeeze the beer-filled in-liners to deliver beer to the taps. This method also improves health and safety in the workplace as employees don't handle heavy barrels or gas canisters.
For Heineken's Cellar-beer, a wall-mounted JUN-AIR OF312 compressor with an 8.5 litre receiver tank produces compressed air at 2.5 bar to deliver the beer at 25 l/min, sufficient for up to five taps. The Orion system uses a wall-mounted Gast 82R rocking piston fitted with an 8.5 litre stainless steel receiver tank and is capable of delivering beer at 20 l/min, sufficient for four taps. For larger venues, Heineken also specifies JUN-AIR's OF1202 fitted with two 8.5 litre receiver tanks, which are connected in series and capable of dispensing beer to as many as 90 taps.
A Heineken spokesperson says: "We have used electric pumps to deliver beer but, since developing the Cellar-beer 2000 system, the JUN-AIR and GAST compressors have helped us set new standards. They are a reliable source and I am confident in talking to the company about future innovations, specifications and developments to our dispense systems."
Gast Group's expertise covers multiple applications and is supported by an extensive knowledge of compressed air applications in the food and beverage sector; with customers benefitting from the company's many successful relationships with OEMs and partnerships with equipment distributors.
Gast Group will also be promoting other GAST and JUN-AIR oil-less and oil-lubricated ranges of clean and quiet compressed air solutions at Drinktec 2017. For further information visit www.gastmfg.com.
Related content