Fairtrade British brand unveils mini chocolate bars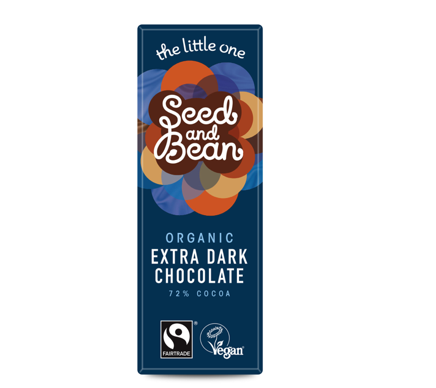 Organic British chocolate brand Seed and Bean has announced the launch of its latest chocolate bar range: The Little One.
The 25g chocolate bar collection, marketed as organic, fairly traded and ethical, is available in four flavours made up of three dark vegan bars and one milk bar which is vegetarian and Kosher certified.
Colm Curran, director of Seed and Bean, says, "Our mini-bar launch has been a big investment and a labour of love, which has taken some time, to ensure we get it spot on, from size, the look of the bar, its name and the flavours we launch with.
"This launch will introduce us to a new audience, the grab and go, and also give our existing fans something new to get their teeth stuck in to. It's exciting times for Seed and Bean.'
Extra Dark 72% – is for those who like their bars plain and simple with a rich cocoa taste.
Dark Espresso – is smooth and dark with an added caffeine pick me up.
Dark Sweet Orange and Thyme – combines citrus and thyme flavours.
Milk Sea Salt & Lime – is the brand's chocolate take on the Tequilla Slammer.
Seed and Bean is stocked in Selfridges, Wholefoods, Planet Organic, Abel & Cole as well as a range of farm shops and delis around the UK and Europe (RRP: £1.20).