EKIM introduces Pazzi, the pizza-making robot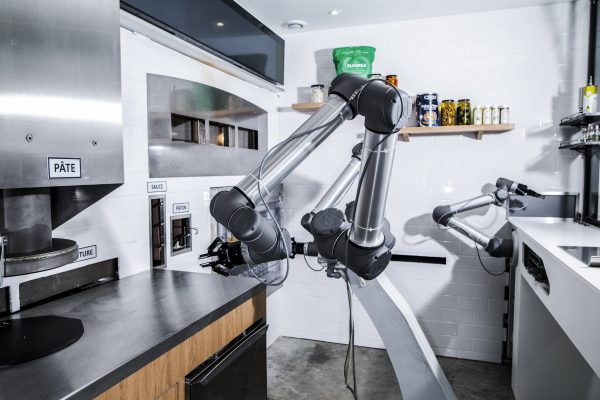 Universal Robots has been chosen by the French start-up EKIM to design a pizzaiolo robot.
Created using Universal Robots' UR10 and UR5 arms, Pazzi is capable of preparing up to 10 pizzas simultaneously from nearly five million recipe combinations, 24 hours a day, 7 days a week.
EKIM says it aims to use this project to offer an 'optimal and high-quality catering solution' in high-traffic areas, such as railway stations, airports and shopping centres, and help reduce the consumption of junk food.
Pazzi is a turnkey "tech good food" concept, providing quality pizza based on healthy and natural ingredients, says EKIM.
"Together with our distributor, we have been supporting EKIM on the project since 2013," says Jacob Pascual-Pape, Regional Sales Director for EMEA at Universal Robots."The main difficulty experienced during the design of this culinary spectacle was the harsh conditions to which the robots were exposed in such a restricted environment."
Pazzi is equipped with three robot arms which are visible to the public, two UR10 and one UR5 all working in tandem. They cut and flatten the dough, place the selected ingredients, bake, cut, and package the pizzas.
To handle the ingredients needed to create the pizzas, the robots are equipped with Robotiq grippers, designed for collaborative robots.
Related content