New gammon steaks from Snaffling Pig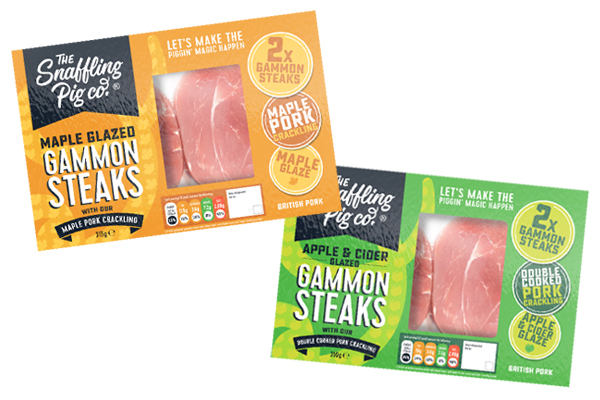 Pork-based snacks company, Snaffling Pig has teamed up with Tulip Ltd to bring a range of gammon steaks to the UK market.
The steaks are 100% British gammon from Tulip Ltd, the UK's largest high welfare pork producer, and are marinated in sauces made with fresh, high-quality ingredients. Featuring Snaffling Pig's pork crackling, the range is launching with two varieties; Maple Glazed Gammon Steaks with Maple Crackling Crumb and Apple & Cider Gammon Steaks with Double Cooked Crackling Crumb.
The gammon steaks are Snaffling Pig's first venture into uncooked meats, a £283 million category.
Nick Coleman, Snaffling Pig founder & CEO, said: "At Snaffling Pig, flavour is crucial to us. We've had great success with our pork snacks, and now we're on a mission to change perceptions that gammon is old fashioned and lacks versatility. The new range is bold, exciting, flavourful. We're bringing excitement to the shelf with our colourful packs and branding, which appeals to a younger audience than is typically buying the cured meat at the moment.
The products will be created at Tulip's Westerleigh site, following significant investment in recent years to enhance gammon production capabilities and capacity.
Daniel Thiem, senior customer marketing manager, Tulip Ltd, said: "At Tulip we work with suppliers to ensure we have the latest technology available to be truly innovative and to create new products that meet a need in the market and help our customers drive sales. The gammon category has a lot of potential for growth and we think the Snaffling Pig steaks will bring the product back to front of mind for shoppers."
The first two Snaffling Pig chilled gammon steaks will launch exclusively in Sainsbury's from 16 January at an RRSP of £3.99 for a pack of two.
Related content