Umami science boosts sandwiches in the air at London Stansted airport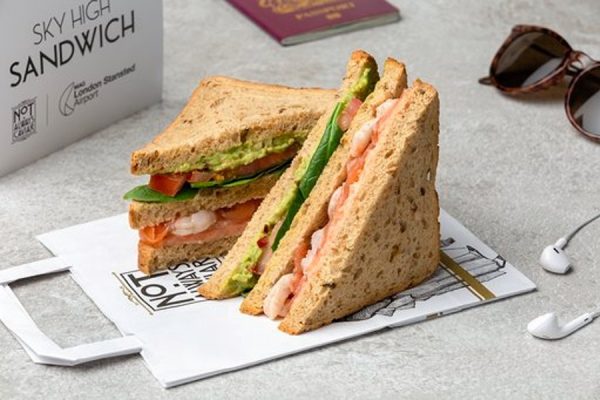 London Stansted airport has teamed up with luxury food outlet Not Always Caviar and leading food expert Professor Barry C. Smith, to create a sandwich designed with flavours that are enhanced at altitude.
Professor Barry C. Smith, director of the University of London's Centre for the Study of the Senses said: "Science shows that the combination of dry air and low-pressure during flights reduces our sensitivity to food aromas. In an aircraft cabin you are also subjected to white noise of around 89 decibels which will greatly reduce the flavours we can taste whilst flying.
"Foods rich in umami provide depth of flavour and boost other basic tastes like salt, sweet and sour. Umami is also immune to the effects of white noise on our perception of taste."
With the knowledge that taste buds can be less receptive at high altitude, the ingredients chosen for the Sky High Sandwich have been carefully crafted to ensure that passengers sampling them on-board a flight are met with punchy flavours that trigger key receptors in the mouth, for a delightful effect. Both sandwiches will include a special umami blend spice ingredient, to give the sandwiches an umami boost.
Aboudy Nasser, chief commercial officer at London Stansted Airport said: "As one of the UK's leading airports, we want to ensure passengers continue to enjoy our great food and beverage offering whilst on board. The Sky High Sandwich is part of our mission to innovate, by harnessing science to create something unique for our guests that tastes great on the ground and even better up in the air."
Taylor Goodhew, chief operating officer, Not Always Caviar said: "Our sandwiches are made with fresh ingredients daily on the premises, so we are delighted to combine these ingredients with the science behind umami to provide customers with a fantastic taste experience which is proven to be enhanced at 35,000 ft."
The Sky High Sandwich will be sold exclusively at the Not Always Caviar cafe in London Stansted airport, available as a Signature Seafood Club (with optional caviar sauce) or a Salt Beef deli sandwich.
Related content