Coffee-cured bacon at Caffé Nero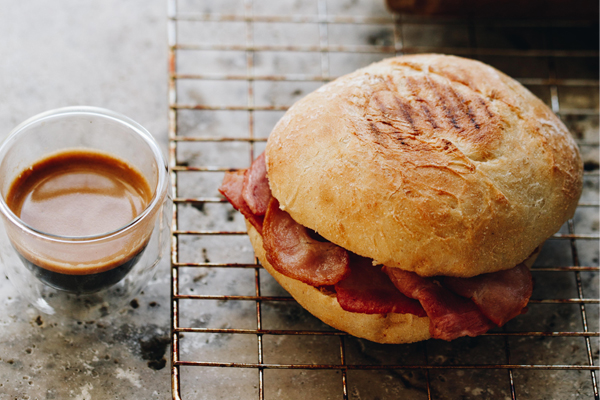 UK coffee house Caffè Nero has combined the full-bodied flavour of its Italian espresso coffee with British bacon, to create the ultimate bacon sandwich. The coffee-cured bacon offering is part of an extensive espresso-infused menu available at Caffè Nero.
To create the unique taste of the bacon, it is cured for over 20 hours using Caffè Nero's blend of coffee to achieve a full-bodied taste, balanced with sweet notes of chocolate and nut.
The bacon will feature throughout the new coffee themed menu which includes a classic ciabatta bacon roll, BLT sandwich, bacon sausage and egg breakfast pot, brie and bacon panini and bacon and chutney flatbread.
Hannah McKay, UK head of food at Caffè Nero said: "We've introduced some delicious new options to the menu, with the aim of putting our coffee craft into our food, to give it a premium appeal. When it comes to enhancing a classic like the bacon sandwich, we knew the only match would have to be our signature blend. Rather than overpowering the great taste of bacon, our cold brew infusion marries perfectly with every mouthful, starting with notes of soft caramel and finishing with the distinctive smoky flavour of warm coffee beans. It's bacon, but not as you know it and we're confident that when customers take their first bite, they'll be back for more."
The bacon coffee infused food menu is just the start for the coffee house, with further innovations to follow in 2019.
Related content