Brace's Bakery launches protein-packed products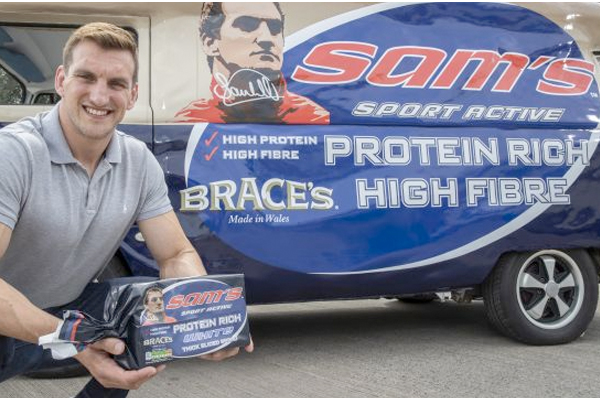 Welsh, family-run bakery, Brace's, has partnered with former Wales and Lions rugby captain, Sam Warburton, to release 'Sam's Sport Active' – a range of protein-packed products, including breads and Welsh cakes.
Following his retirement from international rugby, Sam realised there weren't tasty bakery products on the market containing a high source of protein in order to help sustain an active lifestyle and subsequently arranged a meeting with Brace's.
Brace's director, Jonathan Brace said: "We know more and more people are looking to increase the amount of protein in their diets and so it's important we offer products that meet the needs of the ever-increasing health conscious shopper."
"We agreed to come up with some concept products and before I knew it, Sam's Sport Active had hit the ground running and I'm really excited about unveiling this exciting new brand."
Sam's Sport Active High Protein White is an 800g high protein and high fibre white loaf, while Sam's Sport Active High Protein Prograin is an 800g loaf packed with sunflower seeds, linseed, rye, barley and maize with over 12g of protein per two slices (13.8% per 100g), .
The range also includes Sam's Wheels High Protein Welsh Cakes which come in a twin pack. The full range will be exclusively stocked in Tesco stores across South Wales and the South West of England from September 2019.
Related content