Greenway Farms selects IPI's SuperSlim carton pack for its Rugani carrot juice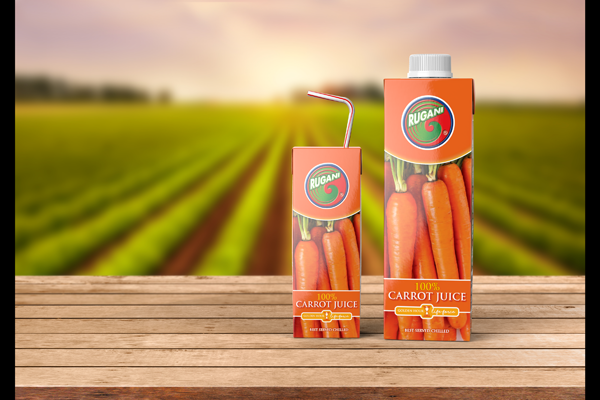 Greenway Farms is the South African leading carrot farmer, delivering more than 200 tonnes of Rugani brand carrots a day. The business started in 1992 as a small farmer growing different types of vegetables for the South African National Fresh Produce Market. In 2000, owners Vito Rugani and Vincent Sequeira decided to specialise in carrot farming and switch their vision to a large-scale production. Today 40% of carrots consumed in South Africa are Rugani.
Greenway Farms carefully selects farmlands thus ensuring ideal growing conditions all year round to obtain healthy products. Their enriched organic compost combined with hydro-cooled technology guarantee carrots as fresh as just picked.
Quality and health are Rugani's pillars: juice contains 100% carrot juice and no preservatives. The juice is high in lutein and beta-carotene which are antioxidants beneficial for skin, eyes and the cardiovascular system.
To enhance its top-level product, Greenway Farms has chosen IPI's appealing new SuperSlim line aseptic carton packaging. SuperSlim shape is a slender package impossible to miss on the shelf, being higher and more streamlined than any other. In addition, IPI's patented King Twist cap on the 750ml – the largest opening ever on the aseptic carton market – makes the product even more attractive. Today, stylish aseptic carton packs are widely spread around the world offering both superior quality and niche liquid products.
Vito Rugani CEO at Greenway Farms (Pty) Ltd. explains, "We believe our juice should taste as wonderful as our carrots: we grow them in the most natural environment keeping the micro life in our soil. To guarantee the freshness and quality of our juice, we harvest our carrots at sunrise and seal away by sunset".
"Greenway Farms aims to show its product quality using the IPI's premium  shape 750ml SuperSlim, a tall and slender orange pack with a big white cap, recalling our beloved fresh vegetables. Moreover, aseptic carton packaging is an environmentally responsible choice that perfectly fits our vision since it is recyclable and requires minimum use of raw materials," concludes Vito Rugani.
Related content