British crisp brand launches into 1,000 US stores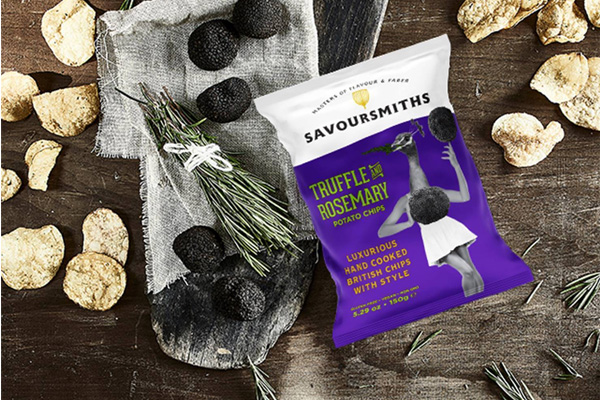 British crisp brand, Savoursmiths, has expanded into more than 1,000 stores across the US, six months after it began exporting to the country, and less than three years after the business was founded.
The Department for International Trade assisted the company with trade missions, logistics, market research and identifying distributors in the country.
Savoursmiths co-founder Mike Russell Smith said: "As a third-generation potato farmer, I have always had a natural love of English farming and the countryside. After leaving my job in London in 2016, I saw a chance to create something novel and unique with my Cambridgeshire spuds.
"My wife and I launched the business in 2016 to give people across the country a luxurious snacking alternative, complete with audacious flavours and eccentric packaging. On our journey, however, we have also discovered the international hunger for our products.
"We saw the potential in the United States snacking market for something original, fun, exciting and luxurious, and sent our first container in February. We found that we can compete with established brands across the world by offering luxurious products and are delighted to be in 1,000 stores across the country."
The company uses ingredients from across the world to create its flavours including Wagu Beef & Honey Mustard and Bubbly & Serrano Chilli. These ingredients include salt from the Kalahari Desert and cheese from Italy.
Savoursmiths co-founder Colette Russell Smith said: "Thanks to DIT's support we have secured a new deal overseas and have further opportunities on the horizon.
"Turning potatoes into crisps may not be a novel concept but – after attending trade shows in places like New York and extensive research into markets across the world – we saw the chance to create an audacious and luxurious brand to fill a growing desire for luxury snacking products.
"The eccentricity of our brand has worked well to grab attention and move stock from shelves into baskets, especially in a market like the United States – where consumers aren't as tied to traditional flavours compared to the UK."
The potatoes for the crisps are grown on the family farm in Cambridgeshire, and currently produced locally until a factory on the farm is created, reducing food miles and bringing increased employment to the local area.
Antony Philipson, HM trade commissioner for North America, said: "I'm delighted that Savoursmiths chips can now be enjoyed in over 1,000 shops across in the US, and many congratulations to them on this major milestone.
"Taking the export plunge always requires careful planning and I hope their success will inspire other UK companies to look for new markets to grow their brands and diversify their customer base."
Related content