Little Jude's unveils flavoured milks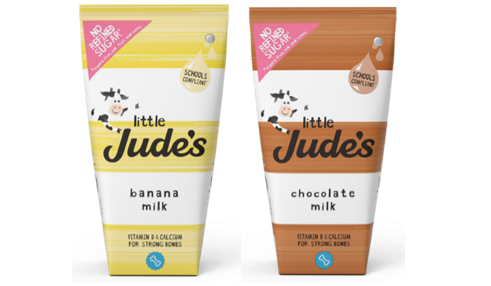 Following the success of its low sugar milk lollies, British ice cream brand Little Jude's has announced the launch of two new flavoured milk products.
Available in chocolate and banana variants, the carton-packaged products are targeted at children aged 18 months and over.
According to the brand, the new milk products contain only 100% naturally sourced ingredients, with added vitamin D and calcium and no refined sugar.
The new product is registered 'Schools Compliant' which means that it complies with the new government regulations to ensure schools are making the right, healthy choice when it comes to selecting food/drink for their pupils.
Commenting on the new flavoured milk, Chow Mezger, managing director at Jude's, says, "Following the success of our milk lollies we realised the demand for natural, great tasting wholesome milk products for families – flavoured milk was an obvious next step for us and we are thrilled with the results.
"Securing a national listing for the launch was just fantastic and we look forward to hearing feedback come the New Year."
Little Jude's Chocolate Milk and Banana Milk are available in selected Sainsbury's stores and will be listed on Ocado from February at a RRP of £1.25, 180ml.
Related content