Love Cocoa launches vegan avocado chocolate bar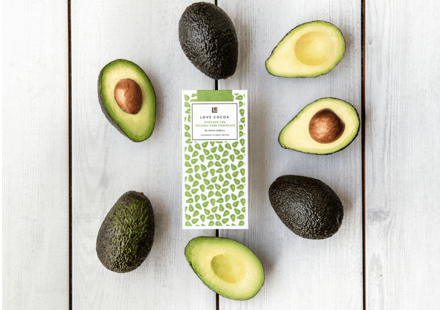 Luxury chocolate company Love Cocoa has launched what it claims is the first vegan avocado chocolate bar in Europe.
Available online for £4.25, Love Cocoa's Avocado Dark Chocolate Bar combines 70% organic dark chocolate with the nutrient rich and creamy tasting fruit. The avocado ingredient used in the bar is 100% natural freeze dried avocado pulp powder, which contains the same taste, texture and nutrients of the green fruit.
The new Avocado Dark Chocolate Bar joins Love Cocoa's existing range of premium chocolate, including Gin and Tonic, Maldon Sea Salt and English Mint. Other flavours include Honey & Honeycomb, Crushed Coffee and plain dark and milk version.
Founded by James Cadbury, the great-great-great grandson of Cadbury's founder John Cadbury, Love Cocoa aims to reinvent chocolate classics with a contemporary touch being free from refined sugars, gluten and palm oil.