MuscleFood launch Christmas range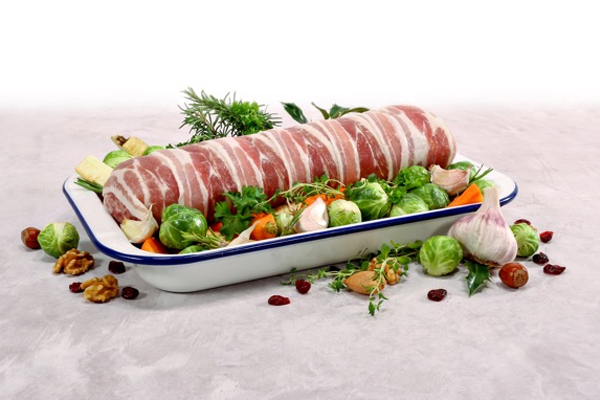 Online food retailer MuscleFood.com has launched its Christmas range, which includes a giant pig in blanket that's over a foot long.
The giant pig in blanket, which is over a foot long at 35cm is thought to be the biggest available in the UK this Christmas and feeds around 10 people. It is made from 1.2kg of gluten free sausage meat wrapped in streaky bacon rashers.
The range also includes brie parcels wrapped in streaky bacon, prosecco flavoured salmon, and chocolate pasta dessert parcels.
The retailer has also launched an Easy Cook Three Course Recipe Box, delivered fresh do your door, which includes everything needed to cook and host a stress-free Christmas at home for 4-6 people.
MuscleFood's popular Christmas hampers have also returned. The Luxury British Turkey Hamper contains enough food to feed 8-10 people on Christmas Day with over £120 worth of produce for just £60, and you can add an extra 54 pieces of Christmas trimmings for just £1.
MuscleFood's founder Darren Beale commented: "We've spent the entire year working with specially selected suppliers to make sure this Christmas range is our best yet. Knowing our farmers is important to ensure we secure the very best for our customers – I can even tell you the name of our turkey farmer's pets!
"Our Christmas hampers are back and are as luxury as ever, but as we're trying to make the festive season as stress-free and convenient as possible, we've introduced some new items to the range like the Easy Cook 3 Course Recipe Box.
"One of the items we're particularly proud of is our Giant Pig in Blanket which is new and exclusive for 2018. This has been developed by our in-house development chef using a fantastic blend of fresh sausage meat, herbs and streaky, salty bacon, and is every meat eater's dream.
"This year we really have thought about everyone. We have banquets fit for meat eaters, pescatarians, vegetarians, vegans and customers who are gluten free. And if that wasn't enough, we've just launched a high protein chocolate advent calendar for all our fitness fans."
See the entire Christmas range.
Related content