The lo- point is a turning point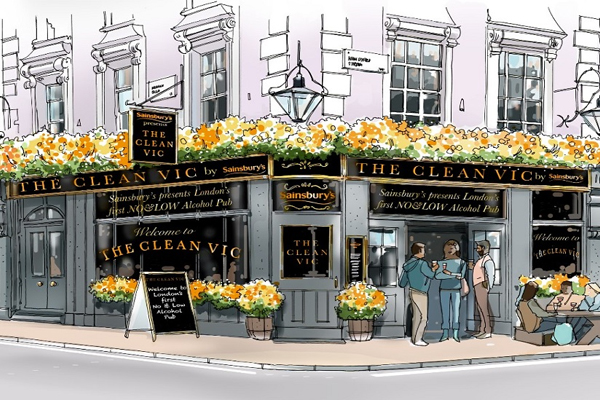 This week sees the opening of the UK's first no- and low-alcohol pub (in London). It follows retailer and seasonal pop-up stall, the Zero Option, which has opened in Marlow, Buckinghamshire, and Hackney, London to meet a demand for alcohol-free drinks.
These moves highlight the changes in drinking habits that statistics show have been evolving for some time.
The sober curious are now gaining in number.
Almost a fifth of UK drinkers say they are cutting down their drinking behaviour – that's more than seven million people!
Whether visitors to the pub/stall/shop are teetotal or just intrigued by the options that are available, they want to be presented with drinks that taste good.
The latest statistics on the growth of no- and low-alcohol beer in the UK, in a report released by Marston's, show off-trade volume is up by 60% since 2017 and up by 30% in on-trade since 2016.
Mindful drinking is here to stay. Just because you don't want to drink wine or beer or a cocktail doesn't mean you want to skip the feeling of drinking one, as proven by the rise of sober bars and kombucha on tap (it has a very low alcohol percentage of about 0.5 to 2%.
Statistics reveal that 30% of customers sitting in a pub or bar are not actually drinking alcohol, which makes a drinkable no-or lo-alcohol beer the new holy grail.
Robinsons Brewery has revealed an increase in sales of no- and low-alcoholic beers and ciders, with 2019 sales up 59% on the previous year.
Mindful drinkers want better options. There was a time people would show no interest in trying new types of low-alcohol beer. You would only ever drink it out of necessity when you had to drive somewhere or had to get up early for work. Such drinks were deemed pretty thin and tasteless.
Drinks makers have changed that attitude, and are continuing developments from a consumer, technical and production standpoint. Cost doesn't appear to make a difference as consumers are willing to pay more.
Gone are the days of drinking water if you're not going to drink the real thing. Now, on a hot day, you can sip on a low-alcohol pilsner from a Bavarian brewery.
That's a big change even from two, three years ago. Men, women, young, old, can sip no- or low-alcohol drinks. No-Lo means there's no typical customer now.
Related content