Garcon Wines bottles up sustainability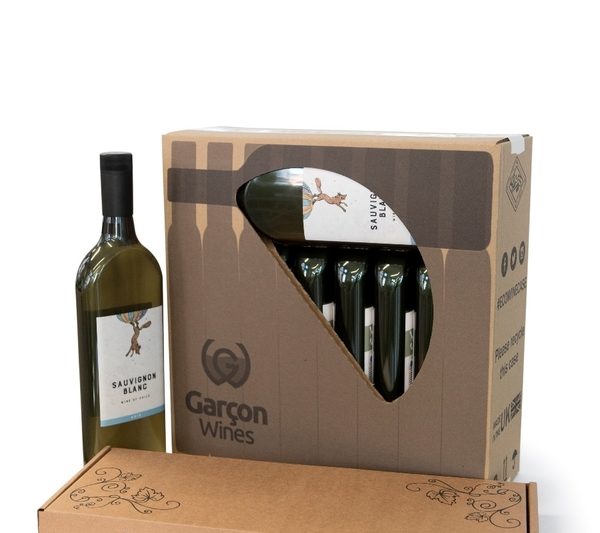 DS Smith has devised a "game-changing" secondary packaging format that significantly cuts carbon emissions and logistics costs from the supply chain of wine.
Garçon Wines, the inventors of flat wine bottles, uses slimline bottles made from 100% post-consumer recycled PET plastic. The new shape and material results in bottles that are 87% lighter and 40% more spatially efficient than an average round, glass bottle of the same volume.
With the aim to improve consumer convenience, Garçon Wines' first project with packaging company DS Smith was to create a single bottle postal pack for online sales. It needed to be thin enough to fit through an average UK letterbox but strong enough to protect the bottle and ensure it arrived free from any damage.
The single bottle postal pack is made from a combination of FSC certified corrugated materials for the outer liner and recycled fibres for the remainder of the pack.
By packing eight flat bottles vertically with two lying horizontally in the airspace around the bottlenecks, almost all unused airspace is eliminated.
Based on a pro-rata per bottle comparison with an average six round, glass bottle case, Garçon Wines' new 10 Flat Bottle Case is approximately 55% spatially smaller. This space saving per case means that a pallet loaded with 10 Flat Bottle Cases could carry 1,040 bottles of wine in comparison to just 456 traditional bottles of wine with a standard pallet load.
Fitting 2.28 times more wine on a pallet translates to lower costs in terms of packaging, warehouse handling and storage, and transportation.
Related content