Startups demonstrate innovation at FoodBytes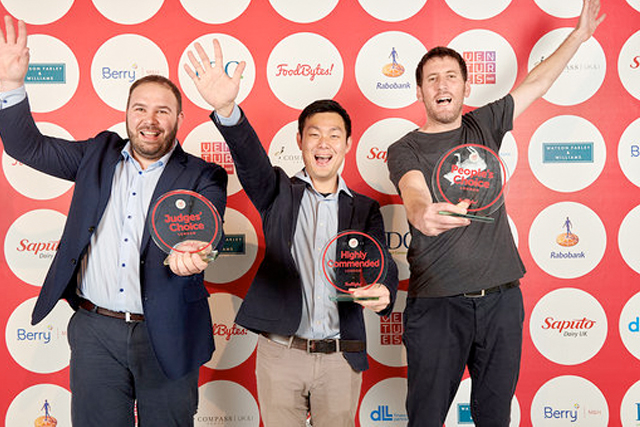 Fifteen startups took to the stage to pitch ground-breaking, sustainable solutions for the food and agriculture (F&A) industry at FoodBytes! by Rabobank. The global pitch competition and networking platform named the winners of its second annual London programme, judged by an esteemed panel of experts.
The pitching startups showcased expertise on key themes and presented novel solutions within emerging F&A trends to an audience of industry players, investors and executives.
Plant-based and personalised nutrition were presented as leading trends, in response to the increasing number of consumers now looking into improving health and consuming a more sustainable diet. With a critical need to eliminate single-use plastics and remove unnecessary packaging, a number of startups proposed next-generation, sustainable packaging solutions, whilst others were finding ways to address the world's food waste issues and make use of materials already in circulation. Accelerating agricultural development, the agtech startups addressed everything from increasing crop yield to improving supply chain efficiency with smart technology and AI, bringing to light the real future of farming.
Tamira Treffers-Herrera, CEO, Rabobank Europe said: "FoodBytes! really caters to the need for startups and corporates to connect in the food and agriculture industry. By merging the two, there is significant scope to innovate with cross-collaboration and bring the inspiring and original ideas from entrepreneurs to the next level .
"The solutions we have seen here at FoodBytes! really adhere to our long term vision to feed the world sustainably with game changing ideas."
Zero Waste Biotech won the Judge's Choice Award for the development of its Aero-D Machine, which is able to convert food waste into clean, renewable energy, enabling a circular economy.
Stephen Beck, CEO & founder said: "FoodBytes! has been an action-packed two days with the opportunity to meet corporates, partners, investors and fellow entrepreneurs. We hope that this award will accelerate our entry to the market where we can help businesses combat climate change."
Redefine Meat won the People's Choice Award for its pioneering animal-free meat, created with cutting-edge technology and its ability to retain the same appearance, texture and flavour of animal meat, while using sustainable and natural ingredients.
Adam Lahav, co-founder and CBO said: "We're delighted to get the backing from the audience here at FoodBytes! London today. It's a humbling accolade as Redefine Meat is created for the people – to bring them better options when it comes to meat-alternatives, animal welfare and environmental responsibility."
Lleaf won the Highly Commended Award for its luminescent light emitting agriculture films, which optimises the sunlight in greenhouses to increase crop yield.
Dr. Alexander Soeriyadi, CEO and co-founder said: "For us it's really about using natural resources the best we can. Lleaf will harness the power of sunlight and prove how we can use it better for growing our food – giving farmers the opportunity to increase their yield, without imposing a negative impact on the environment."
The 15 pitching companies were:
 

CPG: Seaweed & Co., Borrago, Plant Pops
Agtech: Computomics, N2 Applied, Co2i / DryGro, Lleaf, Trellis
Food Tech: Stix Fresh, Fresh Check, Zero Waste Biotech, NOURISH3D, Redefine Meat, Element Packaging, Else Nutrition
Related content